Tuesday, May 31, 2011
Today I am blogging on ERAuthor's group blog
Some Write it Hot.
I'm talking about when enough is too much...backstory...sheesh you people!
Friday, May 27, 2011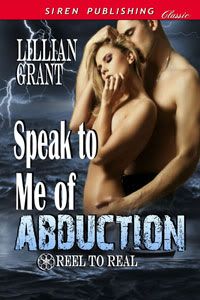 Speak to Me of Abduction
Coming on 15th June from Siren-BookStrand my romantic suspense novel, and book one in my Reel to Real series.
After accepting a movie role, Charlene Page, worries she might be the next rising porn star. On reflection, that might have been safer.
Cover artist, Jinger Heaston
Blurb
Stuck in Rio and desperate for cash, Australian backpacker Charlene accepts a minor movie role. When her co-star, Hollywood hunk and serial womanizer, Jonathon Deveraux is abducted from the set she turns to his older brother for help.
Oscar winner and Hollywood good guy Jacob Deveraux is a recluse. However, when his brother goes missing, he agrees to help the hapless backpacker who appears to have been deceived into taking a movie role so that Jonathon could woo her into his bed. The more determined he is to keep his distance the more he is drawn to her. When it becomes obvious his bother's kidnapping is designed to punish Jacob he worries Charlene may be next. Despite his best efforts to keep her safe she is grabbed off the street. Can he find and save his brother and Charlene or will he lose another woman he loves?